A selection of crags to climb during the winter time.
Palionisos red-wall:
It's a south facing crag and very well protect from the north wind. It has only 10mn of approach. The rock become dry very quickly though it rained a lot before.
   Myriam Caissy, warming up in "Rata…" 6a+
   A very comfortable place!
  Myriam Caissy in a great 7a : "Flipper"
  Here Myriam in a 6c
Little Verdon sector:
Well protected from the north wind, it's for sure one of the best place to climb in the winter, for the quality of  the rock, the view and its routes that stay dry in the cave, even if it rained a lot before! The 7b "Fanny ma reine" is for sure one of the best in Kalymnos, and it's neighbour 7c+/8a is also really awesome! 20mn of walk.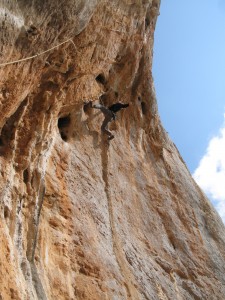 Simon in a very nice 7c+/8a
Above: Nick Hamilton is warming up doing some beautiful "Verdon style" routes…
Below, the sector from the road:
Skalia pilar:
Again a south facing crag, offering 27 routes between the 5c up to the 7b and only 10mn of walk. The rock gets dry very quickly as well. This day (it was an 11 Febrary) we were climbing with the T.shirts, but still it was too hot so I had to take it off! 10mn of walk.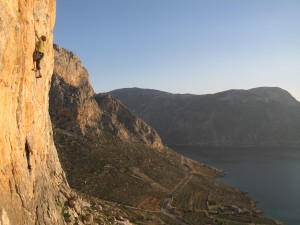 A 11 February and no T.shirt!
Bellow: Myriam Caissy in "Kaly-Dream", 6c+-7a
Kastri:
After 20mn of walk, it's a really good spot to climb with a different vew from the island in the middle of the history of Kalymnos. You will find some really good routes up to 40m long and between the 5a to the 7b+. (With the slabs "Maternity clinic" to the left.) Going up to the crag, don't forget to ask for the local honey to the people living in the house where you park!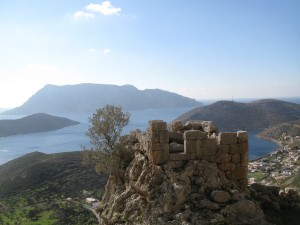 The 2700 years old ruins (!)
In a very good 6a+, the 2 January!
Palace/Baby house:
With its 5mn of approach, it offers some exellent climb in a quiet atmosphère, idéal to bring your kids with you.
 
Arhi:
The classic in Kalymnos. It's very good if you're laisy (Approach: 5mn) and it's often very warm. There are know some really good new routes, such as "The underklings" 6c+/40m or it's neighbouring  7a+, 7b+, 7c…and more! Those routes get dry very quickly, even if all the others at the crag are wet! Try them!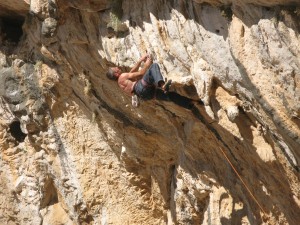 Philippe Lebre in "Giorgio de la jungle", a really  good 7c.  A good crag for Xmas!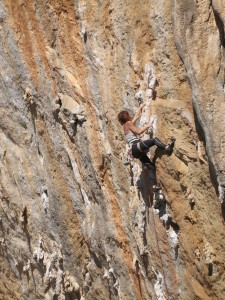 The local climber Geraldine Taylor enjoying her Christmas time climbing "Kastor" 6c+
Below: Simon in a new 8a in Arhi.