Performance coaching
Explore your climbing potential
A customized coaching program to improve efficiently
Train and learn specific climbing techniques
Mental coaching
Develop better movement
Build confidence lead climbing
Strategies and rhythm to send your route
Learn dynamic belay for lead climbing and falls
Breathing
Redpoint: learn to work efficiently on a project
Analyse your climbing and develop stratefies to progress
Fully enjoy every climbing session!
"I'm in a continuing research of ways to progress efficiently for myself as a climber, focusing on mental strenght and moves, this is what I want to share as a climbing instructor"
Climbers from 5a to 8a
No outdoor climbing experience required
3 – 6 April
5 – 10 May
1 – 6 June
1 – 6 September
6 – 11 October
3 – 8 November
How to get to Kalymnos
Closest Airports: Kalymnos and Kos*
*From Kos Airport: Regular ferries from the port of Mastichari (Kos island) to Kalymnos.
Food
– Restaurant: a complete meal (of delicious greek cuisine and generous portions). From 10€
– Cook yourself: most of the accommodation have kitchenette and there is always a minimarket at a walking distance from your room.
Accommodation
Kalymnos offers you different choice of accommodations, according to your budget and number of persons.
– Studios or B&B : from 25 euros/night for 2 persons. Facilities: private balcony with seaview, full equipped kitchen, bathroom and WIFI.
– Hotel: from 45 euros/night, including breakfast. Facilities: private balcony with sea view, bathroom, safe deposit box, sitting room, refrigerators, WIFI, Satellite TV, air condition and swimming pool.
– Apartment or house: ideal for family or group of friends, from 50 to 100€/day. Facilities: private balcony with sea view, full equipped kitchen, living room, bathroom, washing machine, 2 bedrooms (or more), WIFI, air condition, TV.
All accommodations are at a walking distance of minimarkets, restaurants, scooter rental, cafes, shops, beach and part of climbing sectors.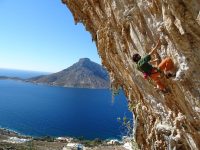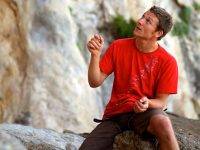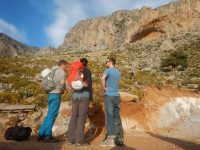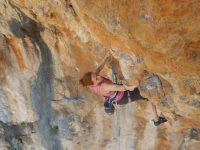 I saw great improvements on my technique
"Simon is a great coach, very flexible and truly a joy to spend climbing days with. I saw great improvements on my technique but also overall philosophy of climbing.
Being able to speak so many languages makes it so easy to go along with international friends."
Eirini Rapti, FB, 26th April 2017
I would strongly recommend Simon to anyone
"I hired Simon for a week in 2012 for my first ever experience of Sport climbing. I had the most amazing week and now go back to Kalymnos every year. Simon taught me everything I needed to know about Sport climbing and gave me huge amounts of encouragement, confidence and local knowledge. Sadly, on my return trips, I have never climbed quite as well as I did with Simon tutoring me! I would strongly recommend Simon to anyone. His knowledge of the island is unparalleled – and he is an incredible climber too."
Serena Lambre, 03/Feb/2014