Kalymnos season had a great kick-start this year again with especially fun and motivated climbers who came on Kalymnos for first, second and…tenth time!
Alexandru, Salima, Francesco, Daniel, Anne-Françoise and Cécile, thanks for your good energy!
To spend such a nice week with all of you guys make me grateful to be climbing instructor and share my passion. Especially when you are such good students and follow all my instructions… Like climbing with one hand with your sandwich in the other hand. And when you look for strategic rest in the route so you can eat it! Of course, it is all for own good. ?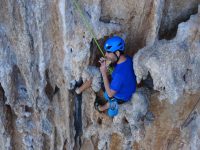 It seems this course was also a lot about food, wasn't it?!