The new routes:
Between Afternoon and Grande-Grotta:
Simon Montmory try Zenith 8b+: To see the video : http://www.youtube.com/watch?v=sm1vK9CvguY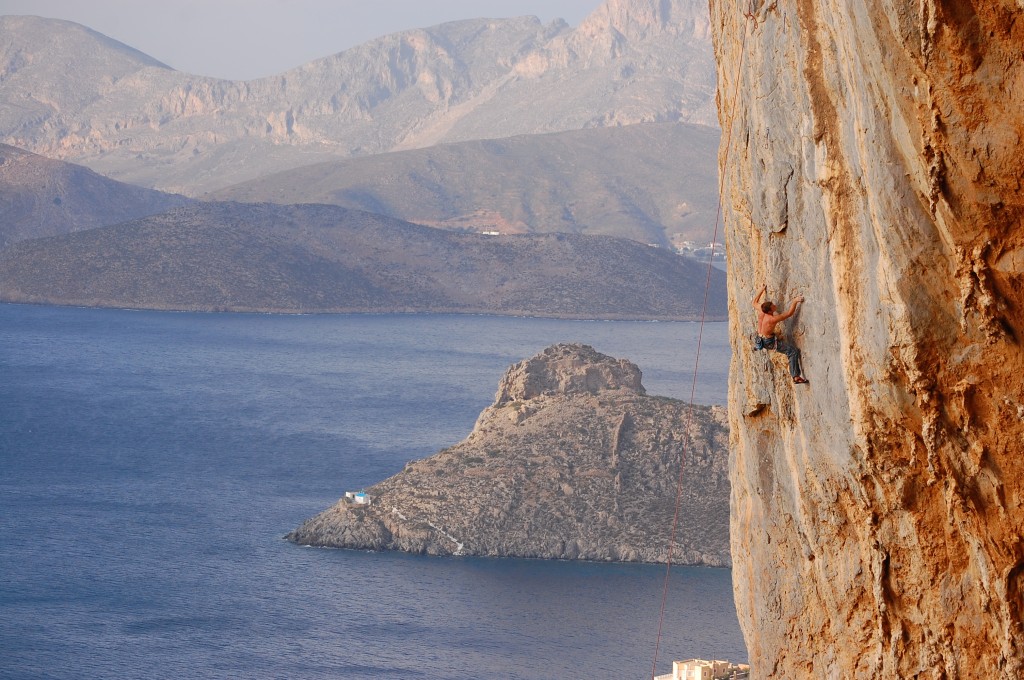 This year, I was very lucky to equip Zenith, probably one of my best route ever.
This 40m 8b+ is more than incredible from all points of view in this grade.
Alex Honold did the FA this winter, bravo to him, specially with the big run out before the chain (6-7m)  as I did'nt put a bolt yet! Whatch down when you will climb it to see the nice feeling!
In Ivory Tower:
I began my year of drilling with 2 obvious lines in Ivory Tower, 40m and about 7c+.
It goes between the two colors brown and white-blue with a pure verticality, like cut with a knife! I named this two routes "Sunrise" and "Café", because of the Sunrise Café in Massouri that gives me the bolts to do it.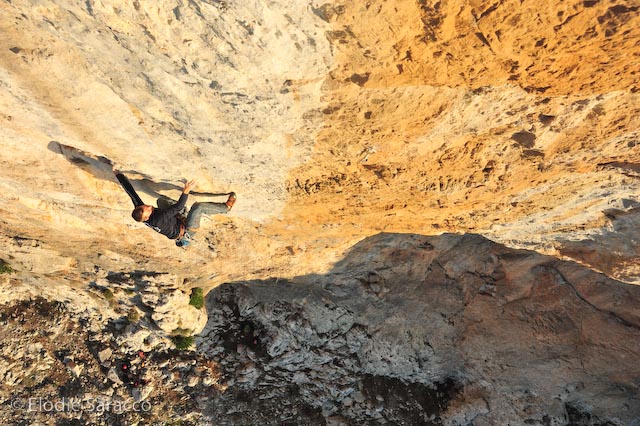 In Yanis sector:
"Adolf in the bay" extension: 7c 38m
"To Manna": 7b+ with 7c+ extension = 38m
In Arhi:
I've just finish to equip 9 new routes from the 6b+ to the project, all are very obvious lines!
Look at these pictures: From the left to the right:
 ext of "Kotopoula": 7c 40m A great pitch, stay dry eaven after very big rains as "The under clinks"!
Ext of Ziwi left "Discoloziwi" : 8a 38m: Amazing! Very original with olmost only under clinks!
ext of Ziwi right "Evkoloziwi": 7a+ 35m
"The under clinks" 6c+ 37m A very interesting and unusual route from the point of view of the rock and the technique!
Galopoula: L1: 6b +, L2: 7b+
Megalakotopoula: 7b+, Project: Some better foot than "Zenith" but with sloper-edges and mad dynamic moovs…A start like "Gora-gutarak 8c+ in Odyssey…"
"Orgasme Minera Extension" variation: "Little Yosemite" 8a/+ 40m. More straight than the oldest variation, you go to the very top on white rock with a crack climbing style! Just enought to reach the ground with the 8om rope and with the draws in the route.
Alcionides Meres 8? A big roof at 50º with a very hard bouldery problem. Pumpy!
"Ne pas toucher ma bitte" extension : Project  : It`s mad…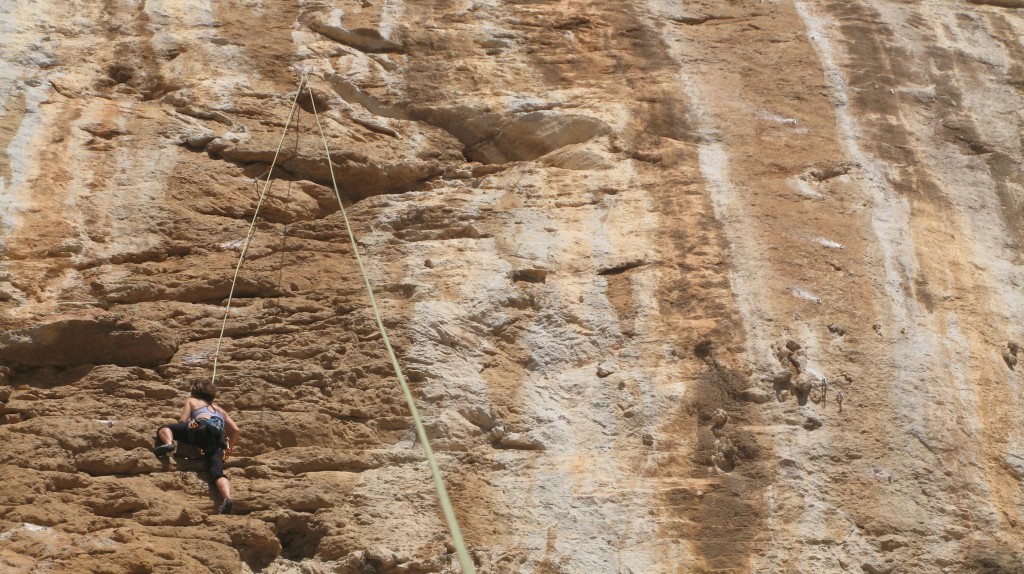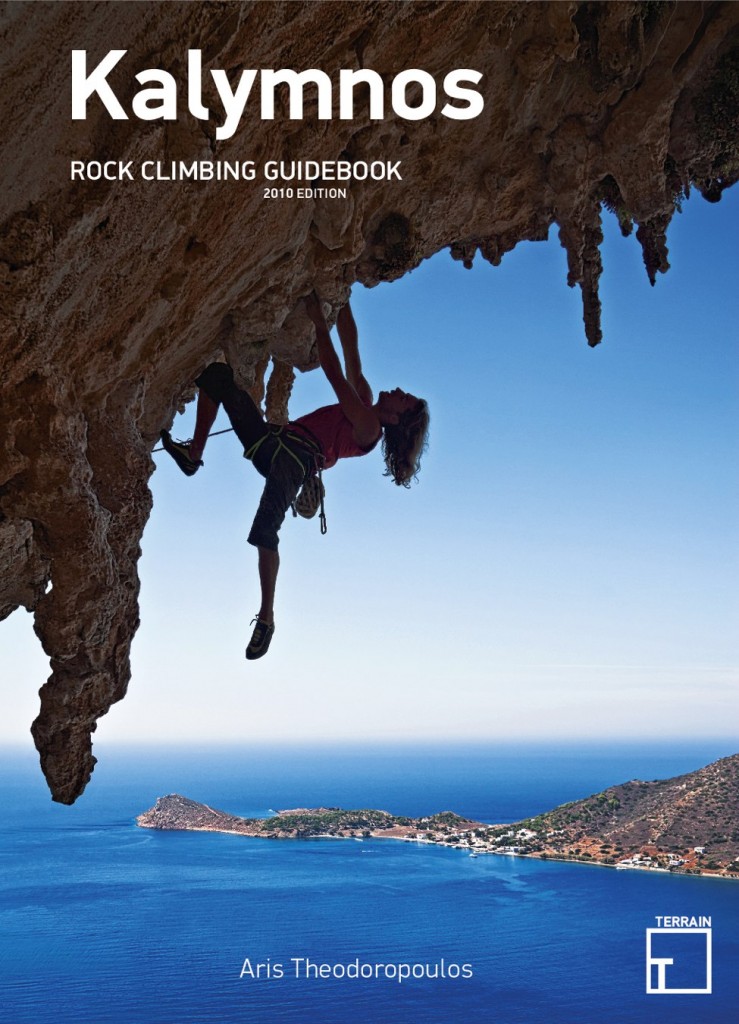 To order the new book: http://climbkalymnos.com/?page_id=2626
 The next crags and new routes:
With the help of many people, I could buy more than 900€ of Inox bolt. These bolts are still waiting to be used to equip an all sector with grades between the 5b to the 7b! This sector will be really extraordinary for its rock, full of stalactites and holes to belay! ( A little bit like the Panorama sector)
Many thanks to all of you that help me to develop climbing in Kalymnos!
 The re-bolting:
With Aris Theodoropoulos, the author of the climbing guide book of Kalymnos, we worked 3 weeks to change rusty bolts and bad belays. It is very good for the island and these routes are very safe now.
Claude Idoux a local French climber now retired and Luca Salsotto an Italian mountain guide help us for some of them. These two guys are equipping lot of routes in Kalymnos as well!