Kalymnos Climbing Courses
Enjoy this 5 day course to improve, train and have fun in the most beautiful routes of Kalymnos!
During one week, under the supervision of your experienced and passionate (!) climbing instructor, you will develop and train your climbing techniques, build your confidence on the rock and take your climbing to a new level. All this in a fun and relax holiday's atmosphere, sunshine, delicious greek food and the blue clear Aegean sea nearby…
Choose your Climbing Course:
Overview
Duration :  8 days /7 nights
5 days instruction and guiding  (~7h/day)
1 rest day .  Possibilities of  scuba diving, cycling, kayaking, tour of the island with a scooter, hike or just to relax on the beach!
Price: 485 euros/pers
Includes: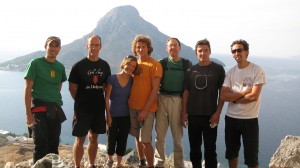 5 guided/instructed climbing days
All climbing equipment (except climbing shoes)
Personalized program to improve your climbing skills
Lots of climbing in the best routes of Kalymnos!
Lots of fun!
Who: All level Groups of 4 persons maximum to optimize your climbing experience Extra cost: ± 250 euros for transport and accomodation
Transport: scooter (car or bicycle also available), transfert from/to airport
Accommodation: studios  (2 single beds with kitchenette, bathroom and balcony with seaview), hotel rooms, appartments and house for rent also available.
* We  help you to organize your stay and provide you all the information you need concerning transport, accommodation and activities on your rest day (kayak, bicycle, hiking, scuba diving …).
When From April to November
Kalymnos Climbing Courses – 2017
BOOKING & INFORMATION * Contact us to join a group on other dates or if you have different requirements for the dates above. ** Climbing camps are possibles all year long from 2 persons.